Chiropractor Matt McCoy D.C. Doctor Matt McCoy is a chiropractor at Lifestyle Family Chiropractic in Sycamore, IL. Dr. Matt is more formally known as Dwight Matthew McCoy, D.C., C.C.S.P. He is a chiropractor who specializes in the treatment of pain and the achievement of optimal health through chiropractic care for residents throughout Northern Illinois. His clinic, Lifestyle Family Chiropractic, is located in Sycamore, Illinois.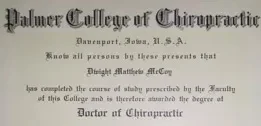 Dr. Matt is a Certified Chiropractic Sports Physician and a Gonstead Diplomate. He has also completed the Texas A&M University's Collision Reconstruction for the Medical Practitioner program offered by Texas Engineering Extension Service Law Enforcement & Security Training Division as well as the Spine Research Institute of San Diego's course in the diagnosis and clinical management of cervical acceleration/deceleration trauma and whiplash-related temporomandibular joint disorders.
Dwight Matthew McCoy was awarded his Doctor of Chiropractic degree from the Palmer College of Chiropractic in Davenport, Iowa, on June 10, 1994. Since graduation, Dr. Matt, as he is lovingly referred to by his patients, has worked as a Chiropractor in Sycamore, Illinois.
Dr. Matt McCoy worked for 17 years with his father Dr. James McCoy at the McCoy Clinic of Chiropractic. In 2011, they split the practice and Dr. Matt opened Lifestyle Family Chiropractic in the same location that was previously home to McCoy Clinic of Chiropractic. The office is located at 1101 DeKalb Ave., Suite 1, in Sycamore, Illinois.
Dr. Matt is a 1985 Sycamore High School graduate and a lifelong member of the Sycamore, Illinois, community.
Set up your appointment to see Dr. Matt at Lifestyle Family Chiropractic today. Call (815) 895-3200. You'll be glad you did.
---
Dr. Matt is a Gonstead Chiropractor. As such, he conducts a thorough analysis of your spine using visualization, instrumentation, static palpation, mobile palpation, and X-ray analysis. These tools all help him to determine the underlying cause of your pain and discomfort. The Gonstead System is considered to be the most complete method of biomechanical analysis available for use by today's doctors of chiropractic. Dr. Matt is one of 21 Gonstead Chiropractors recognized in the State of Illinois by the Gonstead Clinical Studies Society.
OFFICE HOURS
---
Monday
8:00am - 12:00pm
2:00pm - 6:00pm
---
Tuesday
8:00am - 12:00pm
2:00pm - 6:00pm
---
Wednesday
8:00am - 12:00pm
2:00pm - 6:00pm
---
Thursday
Closed
---
Friday
8:00am - 12:00pm
2:00pm - 6:00pm
---
Saturday
8:00am - 12:00pm
---
Sunday
Closed